Aaron Helsinger is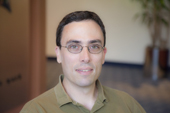 a Senior Software Engineer for the GENI Project Office (GPO). Aaron is designing and implementing GENI APIs to create a single GENI experience for experimenters and tool developers, and building an easy experimenter environment. His particular focus is integrating OpenFlow.
For the past 15 years as a software engineer at BBN, Aaron built distributed secure systems, and systems that use large quantities of data to help users make informed decisions. In various roles as both project manager and lead engineer, this work included:
patented visualization techniques using Java and OpenGL to display complex networks;
architecting, implementing, securing, configuring and testing the Cougaar Multi Agent Architecture;
using agents to simulate vehicles, supply chains, and network traffic; and
architecting and patenting an approach to using client SSL certificates for secure personalized extranets.
Aaron received a BA in Physics from Harvard. He is a named inventor on two patents, and has co-authored multiple papers.