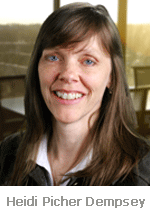 Heidi Picher Dempsey is the Operations & Integration Director for the GENI Project Office (GPO). Heidi is responsible for planning, deploying, integrating, and operating the GENI suite of prototype infrastructure, working in close collaboration with the many academic and industrial teams who are creating and operating prototypes of GENI components and services.  She coordinates yearly spiral development integration efforts and periodic GEC demonstrations, encouraging active and open communication among participants through the GENI Wiki and other tools that the GPO provides for the community.  Heidi also chairs the Operations, Management, Integration and Security (OMIS) working group, which addresses common requirements, policies, and standards for operating and integrating GENI and managing its services, and coordinates GENI's long-term operations and integration plans with major research, regional, and campus infrastructure, as well as critical GENI project network engineering efforts.
Heidi has been a senior technical manager in communications networking for more than 20 years and is a deputy department leader at BBN. She was hardware project manager for BBN's first commercial IP router and was a project manager and engineer on the Terrestrial Wideband Network, the Defense Simulation Internet, the UK FatPipe, and other networks that served both research and government communities.
As a Director at Internet service provider Genuity (a BBN spin-off) until 2000, Heidi led development and fielding of new technology. She was responsible for creating multiple advanced services, including Genuity's first managed VPN service, named best in industry by Network Computing magazine. She led an organization of 150 systems and software engineers, distributed between D.C. and Boston.
Heidi is a frequent speaker at industry conferences and Internet standards meetings.  She received her BS in Civil Engineering from MIT and completed the MIT Sloan School, Greater Boston Executive Program.