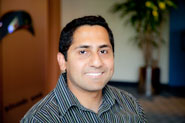 Abhimanyu "Manu" Gosain is a Systems Engineer for the GENI Project Office (GPO), supporting the development of WiMax Kit and Installation Software for campus deployment. He is also supporting the integration of PlanetLab with other GENI projects.  Manu joined the GPO in 2010.
Manu is an engineer in BBN Technologies' Mobile Networking Systems group. His research interests include developing routing protocols for low-energy ad hoc sensor networks and characterizing WLAN 802.11X protocol performance in outdoor environments.
Manu earned an MS in electrical engineering from Tufts University.